GOT DRUMS?

Want to Learn How to Play the Drums?

Follow Your Dreams to Play Music...
Discover The Secrets To
Playing Drums Like A Pro!
 Learn From Orange County's Top Drum Instructor
JEFF WOLFE

TALENTED~INNOVATIVE!
Learn to play drums with 
Jeff Wolfe!
Call Now (949) 433-0476
or

Jeff's magnetic energy, innovative musicality, charismatic style and true understanding of music truly make him a riveting presence to study with!


Drum Lessons in Orange County California
If you think you want to play the drums, but aren't sure if you have what it takes ….THINK AGAIN!… I've taught thousands of boys, girls, men and women from ages 2 to 90+ with Tremendous Success.
Hey, Thanks for checking out my website"   You know, …I was about 5 years old when I first picked up a pair of drum sticks and over 30 years later, I'm still playing and teaching other drum hopefuls the "Elusive Beat."
I am the one to guide you through the hardest parts of the learning process! ….I know EXACTLY how to get the job done.  Lets Talk! ….Jeff

You can tell Jeff loves teaching…As much as he love's music !
"Coupled with solid people skills he's a fantastic teacher that really knows how to turn the LIGHT ON for someone Musically!!"
Who is Jeff Wolfe?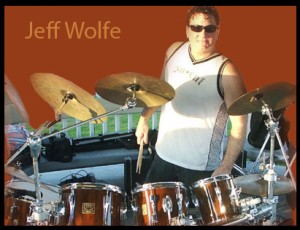 Jeff's Credentials:
• California Accredited with the Newport-Mesa Unified School District
• Jeff teaches after-school programs at local schools including Newport Elementary School
• Newport Heights Elementary School as well as Mariners Elementary School In Newport Beach California
• TOP drum teacher for the local Guitar Centers
• Judged the National Drum-Off for the 14th year in a row
• A Professional Drum Instructor & Drummer
• Engineer and Producer
• Extensive performing and recording background in Classical, Rock, Pop and Funk music (30+ years)
• BA degree in Computer Technology

Jeff has recorded and played with some of the top names in the music industry and has learned many of the inside "tricks of the trade" over the years. With his extensive knowledge of Drums and teaching people how to play drums, Jeff can show you how to understand how music works on a depth and level that is truly inspiring.
So What Will I Learn?
With Jeff you'll learn:
   • 3 & 4  Way Independence Development
  • Correct Sticking Technique (proper physics application etc…)
  • Rudiment Development for faster drum rolls and fills
  • Single and Double Bass Drum Control and Speed Development… The Bonham Shuffle!
  • Correct Body Ergonomics in Relation to the Drum set
  • Lessons taught on Professional Equipment
  • Total Music Understanding, Reading Music, Theory
  • And Much More
Discover the secrets to playing drums like a pro in as little as 1 hour a week.
These drumming secrets taught by Jeff Wolfe will catapult your drumming to a new level within your first lesson.
A Message from Jeff…
Learn to play drums with 
Jeff Wolfe!
Call Now (949) 433-0476
Here is A Testimonial From One Of Jeff's Students:
My son, Wyatt, has been taking lessons from Jeff for the last 6 years. Wyatt looks forward to his lessons and seeing Jeff. Jeff instills a love of music into his students. Jeff is extremely patient and breaks down the complexities of music so his students understand and can achieve success and then build upon that success.
Learn to play drums with 
Jeff Wolfe!
Call Now (949) 433-0476
Jeff is the most amazing Drum Teacher I've ever seen!
My son Dylan just started taking lessons from Jeff and is on his 4th lesson now. He can already play Back in Black, which is amazing considering he started playing a week ago.
As a parent I couldn't be happier on my son's progression to learning how to play drums.
Dylan J. – 12 years old